http://tinyurl.com/pollackwalton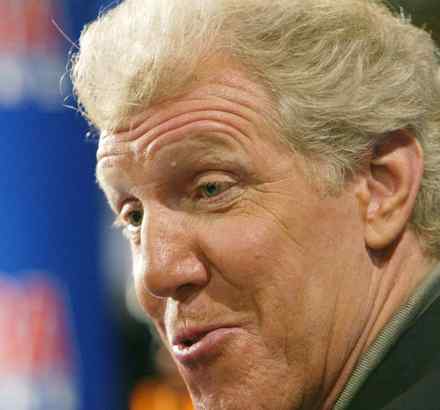 KATHY WILLENS / Associated Press Bill Walton did not hold back in a happy-birthday message – with mixed results in the audio file.

1 of 3 View images RELATED STORIES   Iguodala scores 27 as 76ers coast by Kings   A surreal birthday message   Tweets, twitters, and some twits   Teammates one day?   NBA Roundup   Kate Fagan: Deep Sixer   More on the 76ers LISTEN TO AUDIO

Bill Walton calls Harvey Pollack READER FEEDBACK

 Post a comment SAVE AND SHARE
Buzz up!Buzz this story.
Posted on Mon, Mar. 23, 2009
GONZO A surreal birthday message
Some people get presents for their birthdays. Harvey Pollack got a memorable message instead.
Pollack is the 76ers' longtime director of statistical information, but the octogenarian also worked four games of the NCAA tournament at the Wachovia Center on Thursday and two more Saturday.
After Thursday's games, he didn't get home until around 1 a.m. But he was in the office Friday as usual, then took his girlfriend to see a musical that evening.
Pollack recently celebrated his 87th birthday. Bill Walton called Pollack to mark the occasion, but Pollack didn't answer. No biggie. Walton left Pollack a message on his voice mail.
A friend of a friend of Pollack's forwarded the audio file to me. (You can listen to it here:http://tinyurl.com/pollackwalton.) It's a crazy, effusive, over-the-top monologue that makes Hallmark cards and singing telegrams seem lazy by comparison.
The message - which lasts 1 minute, 44 seconds and contains 238 words - is part traditional happy birthday song, part classic Walton stream of consciousness, and part Vegas lounge act.
Initially, I tried to chop up Walton's words to make them easier to digest. But that would do his stand-up routine a great disservice. You just have to dive in and get dirty.
As you're reading it, try to pick up your speed and energy as you go - that's how Walton delivered it. Also, understand that Walton sang all the "happy birthdays" with wonderful karaoke flair. He drew them out and turned them into long, dramatic asides that sounded like "haaaappppyy birrrrthdaaaaay."
Good luck:
"Happy birthday, happy birthday. Harvey, this Bill Walton just in case you thought it might have been Neil Young or Tony Bennett or Barry Manilow or someone else. But I just wanted to call and wish you the happiest of birthdays and just say thanks for everything, Harvey. You make our lives so wonderful, so full, so complete. And you are such an intergalactic treasure. I cannot believe it's gone so fast - 87 years young. Oh. My. Gosh. You have given your life to make everybody else's better, Harvey, and we just wanted to say thank you on this most special day for you. And we hope that you have just many, many, many, many more birthdays. Happy birthday, happy birthday. Thanks for not only making a difference, Harvey, thanks for makingthe difference . . . in all of our lives. Where on earth would we be without Harvey Pollack? Happy birthday to you.
"You're the absolute greatest. We could never thank you enough. Thank you, thank you, thank you from the bottom of our hearts. Keep it going forever, Harvey. You are our true inspiration. You are our beacon of hope. You are our moral compass and guiding light. Happy birthday, happy birthday, happy birthday to you. Thanks Harvey. Bill Walton here just in case you thought it might have been somebody who can really sing. OK. You take care. We love you, Harvey. Thanks again. Bye."
The man should start a company - Bill Walton's Happy Birthday Messages. Beats ice cream cake.