It's said that during the draft you always take the best player available. The 84 Trailblazers are forever the cautionary tale for this statement. Had they drafted Jordan that year to add to the four 20 ppg guys they already had and up and coming big man Jerome Kersey from the same draft, they probably win the next 10 titles. With Mychal Thompson at center, you could say that wasn't really their position of need, but nonetheless they took talented, but brittle Sam Bowie. As it was, the Trailblazers averaged 50 wins a season from 84-85 to 94-95. It's probably a near certainty that had they taken His Airness, the fortunes of the C's, Lakers, Pistons and Rockets, not to mention the Bulls during this span would have have been drastically impacted by this potential juggernaut. Per Bill Simmons on ESPN Page 2:
Bobby Knight, who'd coached MJ at the '84 Olympic trials, urged Blazers GM Stu Inman (an old pal) to take Jordan. Inman said, "But we need a center." Knight yelled back, "So play him at center!"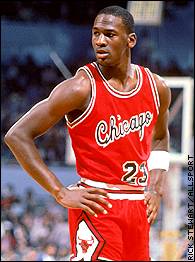 I said all that to say this; DA took the best player he could get, regardless of position and he basically gave up nothing to get him. For about a month and a half Crawford put up All-Star type numbers. From the last week of November through the first week of January he was scoring at a nearly 20 ppg clip with 5 boards, 6 assists and 1.3 steals. During this streak he dropped a 27-11-11 t-dub on the Hawks. Collins doesn't get 11 rebounds some months and has had only 37 points and 6 assists all season! I know we need a couple of bigs that can defend the paint and rebound, but Collins and an expiring contract was a no-brainer to me. Danny will find a big man or two that are at least as productive as Collins soon and will most likely give Collins minutes to Wilcox if he will play some defense. I predict Crawford will be starting for us at the 2 before season's end.
Will he be as good or better than MJ?
*(That remains to be seen.)*