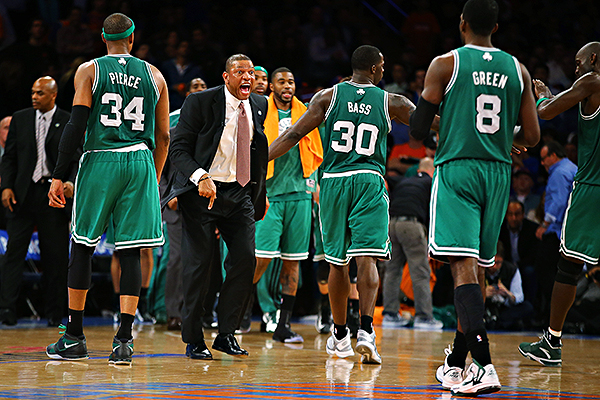 What a great win by the Celtics. Never count them out. Being down 3-0, then showing its not over until its over.
Now game5 is over and done with. We can still talk about K-Mart and Smith's crappy speech but we all need to remember the series is 3-2. Its not an even series just yet. We need to retain ourselves and keep the focus on Game6. The Celtics have to keep practicing and training as hard as they've been these past 2 games. Its win or go home, its game7 every game until they win the series.
That being said, its Game6, in Boston, at the TD Garden. Celtics Nation needs to come alive one last time. I know this game will be different then game 4, fan wise. I know this because I had a ton of people I knew go to the game and were told the C's fans sold their tickets to Knicks fans because they thought it was over. This time it'll be different. 18,000 Celtics fans ready to go, ready to cheer, ready to chant, and most importantly, ready to scream and talk trash to the Knicks players. The Knicks fan base will be Very minimal.
This is where we, Celtics Nation, must do our part. Be ready to lose your voice. Every chance we get to help the Celtics, we must do so. The Celtics will do their part. They're in the gym practicing their shots, bonding, trusting one another, and learning the rotations from Rondo. They'll be in the gym after hours studying more, getting extra conditioning from the trainers to be ready for Game6. They'll be calm when they walk on the court and get their names called out. They'll be ready for these games because its the most important game(s), right now, this season. They'll be ready for 48 minutes of Celtics basketball.
So let's do our part. Let's keep up the faith, Let's pre-game. Let's wear our finest Celtics gear we own and join together to cheer on the Celtics.. Boston Strong! "You Messed With The Wrong City!"
In the words of Kevin Garnett...
"Throw your hard hat on. Get your hammer, your nails. It's time to work. Let's do it."
GAME 6, FRIDAY NIGHT, BE READY.. CHEER.. CHANT.. and SCREAM for a Celtics Victory to bring this series to a Game7. History in the making!
LET'S GO CELTICS!... LET'S GO CELTICS!... LET'S GO CELTICS!!!
-Celtics Nation