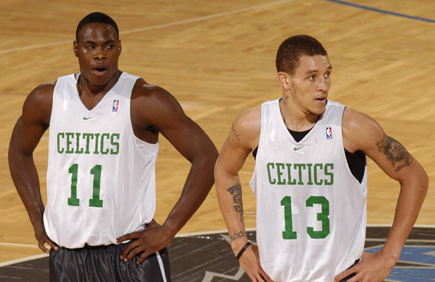 Last night the students put on a show that the teacher must have been proud of. Combined, our new point guard (Marcus West? Delonte Banks?) scored 26 points, dished out 6 assists, pulled down 7 rebounds, and managed to not look like young kids (at least not more than a play or two).
Much of the credit should go to our new (for now) starting point guard, Delonte West. He kept the defense honest with his shooting, which opened things up for Walker and the rest down low. We can't necessarily count on this night in and night out, but we can assume that this is a glimpse of things to come. His talent is real, his composure is evident, and his stroke is sweet.
Marcus? Well, he's still Marcus. He can blow by a defender then get lost in the trees. He'll knock down 3 pointers then miss wide open cutters. He's up, he's down, he's not safe. I think the reason that West is starting and Banks is still coming off the bench is because he's a risk on the court still. Banks might dazzle you and do some wonderful things, but West is already more composed. That makes a coach feel safe. Still, it is nice to have that Kevin Faulk change of pace back to put in when the opponent's legs are getting tired.
So far so good for the students. Lets hope they can keep their grades up over the rest of the semester and into the exam period.