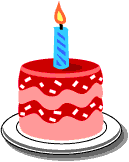 Believe it or not, as of today, this blog is 1 year old. So in honor of the occasion, we thought we'd share the top 10 moments in CelticsBlog history. (we'll start with 10 - 6 and work on 5 - 1 later)
10. The inaugural posts!
I wrestled with how to start a blog off right, so I went with the old standby "State of the Celtics" type of post that was titled "Back to the Future." Not the most original title, but it worked. I should have known that my hand wringing about what to write was a bit moot considering that at the time, nobody was reading it.
On the other hand, hagrid dove right in to the real content and wrote a scathing "Letter to the Editor" in response to Steve Kerr's attempt at "journalism."
9. Draft night
We didn't exactly cover the draft night itself (I figured Bill Simmons had that covered with his draft diary), but it was an important night for the blog as it marked the end of weeks and weeks of speculation, rumor-mongering, and a daily dose of Chad Ford. Nobody scoured the internet for Celtics news quite like us and I'd have to say I was still shocked by what actually happened. To me it was Big Al and Those Other Little Guys.
8. Blount resigns
The day Mark resigned, we had our highest traffic to that point. I was happy to see people starting to look to the blog for news and opinion of transactions. Reaction was 90% positive at the time and I thought it was a good deal. Even Chad Ford had him ranked in the top 10 free agents list. Fast forward to the beginning of this season, when he was struggling, where I would pen the now infamous "Blountiful" in a vain attempt to remind people of what a great player he was last year. Too bad it took Mark another 3 months to remember for himself.
7. First with the Gary trade rumor
Yep, I was the first website (ie. not a message board) to post the Gary Payton trade rumor - a fact later confirmed by Eric Pincus of Hoopsworld who was a gracious second. Along with most people, I was sure it was just another bogus rumor, but I ran with it anyway because, well, this is a blog. I also reported rumors that included Jason Kidd, Shareef Abdur Rahim, Peja, and others. Which goes to show you that even a stopped clock is right twice a day.
6. Who Are You People?
This was one of my favorite posts because it turned the attention to you guys (the readers). I wanted to let you know that we appreciated the traffic and that we love the feedback. Sadly, it looks like our comments fields have a limit and the old comments are now forever gone (man, you guys write a lot) - but if those were still there, you would have read several lovely stories about how people got here and where in the world they live. We are truly lucky to have such a great (and growing) community of readers and posters that come to this site every day.
We'll continue with the top 5 moments in another post. Happy birthday blog!
p.s. this is not another blatant attempt to fish for compliments from you, we just wanted to honor the occasion with some fond memories - if you want to share your own memories please do so!