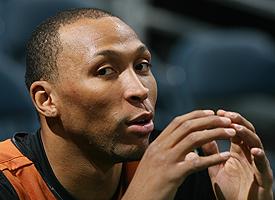 I am a big fan of Shawn Marion.  He has an all-round game that would make any team he's on better.  On the other hand, before making a deal to bring him to town, the team has to make sure he makes sense within the context of the future of the team.
It is really hard not to like Shawn Marion's game.  He is very athletic, runs the floor with the best of them, rebounds extremely well for a player his size (6'7"), and he can catch and shoot from downtown with the best of them.  He's even an underrated defender.  He's the kind of guy that can take a back seat in the scoring column and still manage to dominate a game.
On the other hand, on just about any team other than the Suns he'd be playing small forward.  Which happens to be the same position as Paul Pierce.  Which happens to be the same position as Wally Szczerbiak.  Which happens to be the same position that Ricky Davis played.  How many times can the team bring in guys that duplicate Pierce and expect it to magically work out?  I understand the concept of getting the best talent you can and working out the details later.  I just want to know how long we'll have to wait to see it all work out.
Already thinking ahead, you could shift Pierce into a shooting guard type role.  The 2's and 3's in Doc's offense have similar responsibilities anyway.  The issue is what to do on defense.  I suppose you could work out a switch where Marion takes the best wing player, but you can't expect Pierce to keep up with the quicker 2's in the league.  Needless to say Wally would be an expensive 6th man bringing spot up shooting off the bench.
On the other hand, you could play with more of Doc's small-ball lineups by using Marion at the 4 and Al Jefferson as a center.  Still, that means adding another challenge to Jefferson's plate.  It also makes the team painfully undersized.  It would have to be run to perfection, and as much as I love Rondo, he's not Steve Nash.  (And Doc isn't Mike D'Antoni)
Which brings up another hesitation.  Will Marion be able to duplicate his success without the Canadian MVP tossing him alley-oops?  You can't discount the fact that Nash makes his teammates better, but Joe Johnson was able to thrive (at least indivitually) elsewhere.  Personally I think Marion might not get as many easy buckets as he would in Phoeinx, but that won't limit the rest of his game.  He'll still going to crash the boards and run the floor and play tough defense and hit outside shots.
Some wonder too if he'd be happy in Boston.  He does have an opt out after one year, so there's the danger of trading valuable assets (like the 5th pick) for a guy who would end up being a one year rental.  You'd almost have to get permission from the Suns to talk to him about an extension before completing the trade.
But would he want to sign a longer contract to play for the team that was second worst in the league last year?  I am actually pretty sure he'd love the chance to start over.  Just listen to some of the comments he made in this ESPN The Mag article.
"I want the recognition," says Marion, who got fewer votes for February's All-Star Game than Shane Battier. "I feel I've done what it takes to get it, but for some reason it hasn't happened."

So what about it, Shawn? Would you rather be a 30-point scorer and an MVP candidate on a lesser team, say, one only flirting with the postseason, than the sidekick to the sidekick in Phoenix? "Wow, that's interesting," he says thoughtfully, as if he's never entertained the prospect before.

Marion pauses nearly 10 seconds to concentrate on the question. Only the muted sound of late-afternoon traffic outside the two-story living room breaks the silence. He fiddles with the remote as if it holds the answer. "I've never been asked that," he continues. "That would be an interesting situation to be in, to really show people what I can do.

"But we'd be in the playoffs, right?"
With a lineup consisting of Rondo, Pierce, Marion, and Jefferson (regardless of where you put them), I'd say "yes, you'd be in the playoffs Shawn."  Of course that means Doc would have his hands full getting everything to fit right.  And Danny would have his hands full trying to get better complimentary pieces to work things out.  And neither has proven that they can do either of those things.  Not to mention the not-so-small detail of working out the luxury tax implications.  Would Wyc pay luxury tax dollars for a team that hasn't proven anything yet?  Would Danny be able to dump Wally's salary before the end of next year?  There are a lot of question marks.
One last thing to throw out there:  What if the team traded for Marion, then flipped Pierce to another team for a lottery pick and a couple of players?  Depending on who those players are, you'd have to consider it.  On the other hand, the bird in the hand theory says it is easier to just keep Pierce and look elsewhere for help.
With all of those things said, I'm still too big of a fan of Marion to dismiss the concept outright.  Does Shawn Marion make sense?  In many ways he does.  In other ways he doesn't.  It all depends on what other offers we are getting for the 5th pick and how Danny and Doc plan on using Marion if he comes here.  If push came to shove, I'd say I'd love to have Marion.  But I'd say that based more on emotion and curiosity than common sense.