at
Boston Celtics (0-0) at Houston Rockets (0-0)
Wednesday, October 7, 2009
8:30 PM ET
TV: CSN HD
Preseason Game 1
Dodge Arena, Hidalgo, Texas
Game Thread l Chat
After a much longer off season than Celtics fans wanted, it's finally time for the games to begin again! The Celtics open their preseason play on the road in Hidalgo Texas against the Houston Rockets. The Rockets are a team somewhat in transition as their big man, Yao Ming, will be out for the season and they will be without Tracy McGrady at least until the end of the pre-season. Rockets' coach, Rick Adelman, will be shifting lineups and trying to find what works, especially at the center position.
Celtics fans won't really be too concerned with who is on the court for the Rockets since they will be finally seeing the first action for their new look team. We will be looking for the first action from Kevin Garnett since he went down with the knee injury in February of last season. Will he limp? How many minutes will he play? We will be watching for the contributions of newcomers Rasheed Wallace, Marquis Daniels, Shelden Williams, and Lester Hudson. How will KG look? How will Sheed get along with the replacement refs? Will Quisy be the back up PG? Will Scal back up Paul Pierce? How much of a difference will the weight that Perk and Big Baby lost and the weight that Rondo gained make? We are finally about to get answers to these and all the other questions we have about this team.
Paul Pierce said that the team was playing like something was taken from them. Whether it was the championship or ubuntu, this team is very focused on getting it back. Doc has said that he thinks this team will be even better defensively than their championship team was. All this promises that this season is going to be a lot of fun to watch.
---

Probable Starters







PG: Rajon Rondo
SG: Ray Allen
SF: Paul Pierce
PF: Kevin Garnett
C: Kendrick Perkins

Off the Bench:
Rasheed Wallace
Marquis Daniels
Shelden Williams
Big Baby Davis
Eddie House
JR Giddens
Brian Scalabrine
Lester Hudson
Michael Sweetney

Injuries
Tony Allen (ankle) probable
Bill Walker (knee) out

Probable Starters







PG: Aaron Brooks
SG: Kyle Lowry
SF: Trevor Ariza
PF: Luis Scola
C: David Andersen
NOTE: This is a wild guess as to their starters. Rick Adelman has said that he doesn't know who his starters are going to be and it could change from game to game in the preseason. I PM'd a Rockets fan and asked for his best guess as to who would start and went with that. In the Rockets' opener, Chuck Hayes started at center, Chase Budinger started at small forward and Trevor Ariza was the starting 2 guard. That doesn't mean anything because Rick Adelman has said that he may have a different starting lineup for each preseason game until he settles on a rotation.

Off the Bench
Brent Barry
Chase Budinger
Will Conroy
Brian Cook
Joey Dorsey
Chuck Hayes
Carl Landry
Pops Mensah Bonsu
Jermaine Taylor
Garrett Temple

Injuries
Shane Battier (hamstring) questionable
Yao Ming (foot) out
Tracy McGrady (knee) out

Players to Watch



The most obvious player to watch is Kevin Garnett. Reports and video out of training camp have been very encouraging. But, this will be our first chance to see him in game action. Scott Souza reported from Tuesday's practice that KG struggled with a sore calf and shin splints and was limited in practice and walked with an apparent limp. Doc insists that this isn't an injury but just soreness from being away from basketball for so long. KG is expected to start, but his minutes will likely be limited. But, whatever minutes he is out there, he will be closely watched by Celtics fans everywhere.



Perhaps the most important player on this team other than KG is Rajon Rondo. KG has described him as razor sharp in practice. He has gained 11 lbs of muscle and also has reportedly worked on his jumper all summer. It would be nice to see him hitting his shots early to gain confidence.

Honorable Mention:
Rasheed Wallace, Marquis Daniels, Shelden Williams, Perk and Big Baby
This will be our first opportunity to see how the new players are meshing with the team and how the weight that Perk and Big Baby lost affects their games.




Luis Scola was a key player for the Rockets last year and he should pick up where he left off last season. The matchup between KG and Scola will be fun to watch as KG gets his first taste of competition since last February.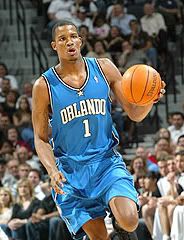 Trevor Ariza was the Rockets' key acquisition over the summer. He swapped places with the combustible Ron Artest and should be a better fit for this team all the way around.

Honorable Mention
Aaron Brooks, Brent Barry, David Andersen
It will be fun to watch the PG matchup between Brooks and Rondo. Anderson is not a lock for the starting center spot and if he gets the start, he will be playing to make an impression that he should be there. Brent Barry has been a key player off the bench and it will be interesting to see if he is slowing down any.

NOTES:
Starters and playing time are inexact sciences in the preseason so all of the above are just wild guesses that can change at the coach's whims. As stated above, Brooks, Ariza, Budinger, Scola and Hayes started in the Rockets' opener against the Spurs. Unlike the Celtics they don't have a set starting 5 yet and so we may see that lineup or a very different one. This will be the Celtics first game while the Rockets tuned up last night in a 99-85 win over the Spurs.
The games are finally here. This is going to be a very fun season! Buckle up and hang on!!!