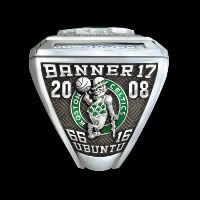 at

Boston Celtics (14-4) at San Antonio Spurs (10-6)
Thursday, December 3
8:00 PM ET
Game #19, Road Game #9
TV: TNT, TSN
Radio: ESPNR, WOAI, WEEI
AT&T Center
Refs: Dick Bavetta, Bennie Adams, Marc Davis
The Spurs got off to a slow start, losing 6 of their first 10 games but have righted the ship and, like the Celtics, have won their last 5 games. One of these teams will get their sixth straight victory, while stopping the other's win streak at 5.
Like the Celtics, the Spurs are subject to speculation that their team is too old. Both teams have some nice young players, and both teams have stars that are getting up in age. The average age of the Celtics is 27.9 while the average age of the Spurs is 28.7. McDyess is 35, Duncan is 33, and Jefferson is 29 while KG is 33, Pierce is 32 and Ray is 34.
The Spurs have been off since Sunday, while the Celtics played on Tuesday and are playing in the 3rd game of a 4 game road trip. For some teams, a layoff of 3 days is enough for them to show some rust to begin the game and for other teams, it is enough for them to come out well rested and on fire. The Spurs are a veteran team that should come out focused and so the Celtics need to match that focus and get off to a good start. If they dig a hole in the first quarter, they will find that is isn't easy to come back against a defensive minded team like the Spurs.
In their last game, the Celtics ended the Bobcats' 4 game win streak and hopefully they will do the same for the Spurs 5 game win streak.
Coach:

Doc Rivers


Average Age: 27.9
Average Height: 6-6
Average Weight: 224
Probable Starters








Rajon Rondo

/

Ray Allen

/

Paul Pierce

/

Kevin Garnett

/

Kendrick Perkins





Coach:

Gregg Popovich


Average Age: 28.7
Average Height: 6-7
Average Weight: 224
Probable Starters








Tony Parker

/

Keith Bogans

/

Richard Jefferson

/

Tim Duncan

/

Antonio McDyess





Key Matchups
vs

Rajon Rondo vs Tony Parker
Rondo has been compared to Parker at times and this matchup will be a big challenge for both players. When Rondo is aggressive and focused, he can pretty much take on any point guard in the league, including Parker. Rondo usually gets up for big games and this is a big one.


vs

Kevin Garnett vs Tim Duncan
This is a matchup of the two best power forwards in the league. KG is playing very well so far on this trip and should continue that trend in this game although Duncan's defense could slow him down. Duncan is also playing at a high level, averaging 18.5 points, 10.8 rebounds and 2 blocks for the season. This should be a battle and a fun one to watch at that.

Honorable Mention
Kendrick Perkins vs Antonio McDyess
Perk has been tearing it up on both ends of the court recently. He should have the advantage against McDyess and I expect another big night from him.

Keys to the Game
Defense - The Celtics appear to have returned to their defensive form that we saw in the first 5 games. They need to continue to play the swarming team defense that we have come to know and love.

Focus
The Celtics problems during their mini slump earlier were due to a lack of focus. They need to come out focused and stay focused for 48 minutes. This game won't be easy, but if they focus like they have in their past 2 games, they will give themselves to get another road win.

Rebound The Spurs are a good rebounding team and the Celtics need to concentrate on crashing the boards. Tony Parker is very good at running the break when the Spurs get defensive rebounds and Duncan is one of the best at putting back offensive rebounds. By dominating the boards, the Celtics can prevent both from happening.

Run the Offense In recent games we have seen the Celtics return to the ball movement that makes them so tough to guard. They also have to continue to take the ball inside rather than just depend on jumpers.