Boston Celtics (45-15, 18-10 away) @ Milwaukee Bucks (23-37, 15-15 home)Game:
Home # 61, Away # 29)
Venue:
Bradley Center
Officials:
Mike Callahan, Mark Lindsay, Leon Wood
TV:
ESPN, CSN-NE,
Radio:
WEEI
The Line:
The Celtics are currently riding a 4 game winning streak, while
the Bucks are 3-4 over their last 7, the Celtics have won the only meeting
between the teams this season, and the teams split the reg season 4 game
series last season.
Game Thread | Chat Room
The last time these two teams met, a lot of things were different. They haven't faced off in over 4 months, and a lot has happened in that time; the Celtics have put to rest any rumors that this would be the year they fall off, some players moved around, snow fell, and decided to stay, and the Bucks went from a plucky playoff team that everyone doesn't want to see healthy in the first round to a team that is sitting outside the NBA's top 20 teams.
And, the hits don't stop there for the Bucks.
Andrew Bogut
, who led Milwaukee last time they faced Boston with 21 points and 13 rebounds is out with a rib injury.
Ersan Ilyasova
, who chipped in 15 points and 7 boards off the bench for Milwaukee and had been starting for 30+ straight games until recently, is questionable.
Tack on to that Milwaukee's mediocre home record, and tonight does not look good for the Bucks.
But, putting rational thought and reasonable expectations aside, let's get a little weird. Milwaukee is a generally young team. They also play at one of the slowest paces in the NBA, which can be a frustrating grind on a team that isn't ready for a 48 minute effort to only win by 6 points. On top of that they've got competent role players and scorers in
Corey Maggette
,
John Salmons
, and
Carlos Delfino
. They've got a solid and potentially explosive young point guard in
Brandon Jennings
, and one of the league's better man on man defenders, Luc Ricard Mbah A Moute (LRMAM, as he is affectionately known). While they won't have Andrew Bogut to anchor the middle until Washington on March 8th, they do have
Larry Sanders
, an athletic young big who has length and jumping ability the Celtics cannot match with anyone on their roster in a guy who is also 6'11.
While Boston should by all rights walk away with this one early, let's hope they don't realize that. Milwaukee is not the most talented team, they're not the fastest team, or the smartest team, but they're one of the toughest teams out there, thanks to a roster full of gritty hustle-monster players, and a coach,
Scott Skiles
, who missed his calling as a
cliche drill instructor in 80's movies about the army.

Tonight's game should be a win, but I'll bet dollars to doughnuts that it won't be a beauty pageant winner.
Probable Starting Matchups
Point Guard


vs


Rajon Rondo vs Brandon Jennings

Shooting Guard


vs


Ray Allen vs John Salmons

Small Forward


vs


Paul Pierce vs Carlos Delfino

Power Forward


vs

Kevin Garnett vs Jon Brockman

Center

vs

Nenad Krstic vs Larry Sanders




Celtics Reserves
Avery Bradley
Jeff Green
Carlos Arroyo
Troy Murphy
Sasha Pavlovic

Injured
Jermaine O'Neal (knee) out
Glen Davis (knee) out
Delonte West (ankle) out
Shaquille O'Neal (Achilles) out
Von Wafer (calf) out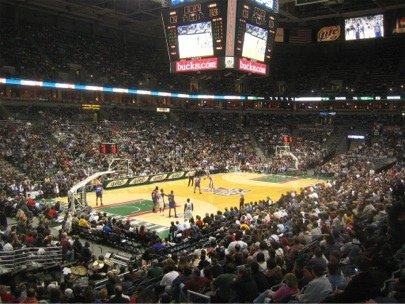 Bucks Bench
Corey Maggette
Keyon Dooling
Luc Mbah a Moute
Earl Boykins
Earl Barron
Chris Douglas-Roberts

Injuries
Andrew Bogut (ribs) out
Michael Redd (knee) out
Drew Gooden (foot) out
Ersan Ilyasova (head) out
3 Keys To The Game For The Good Guys
1) Don't Get Frustrated, Don't Get Angry, Don't Get Complacent - The Milwaukee Bucks are the Chinese Water Torture of basketball. They'll play slow, with pesky annoying but physical defense. They'll wait for mental lapses by opposing teams, and be patient in doing do. While the Bucks are about as explosive as a wet match book, they're a team that will put you away if you let them stick around. The Celtics need a nice lead early, and they need to get the Bucks desperate before the end of the 3rd.
2) Ram It Low - The paint tonight should be a free for all. While I don't think it is smart to undersell the Bucks' defense, you also cannot underestimate Andrew Bogut's affect on D. He's not the top help defender in the league, but he's one of the best, and he's not the best low post defender in the league, but he's one of the best, he's not the best rebounder in the league, but..you get the point. Without Bogut to anchor the D, the great perimeter D that guys like LRMAM, Delfino, or even Brandon Jennings are capable of playing is all for naught.
3) Don't Foul Out, Nenad Krstic! - Corey Maggette is a flawed player. He's a horrible passer, a middling (at best) defender, and he's not really a good outside shooter. But, he is strong like Bull, and very good at drawing fouls to the basket on his way for and-1 opportunities. He has a higher % of shot attempts that result in drawn fouls (6.0%) than LeBron James, or any other small forward for that matter who has played more than 500 minutes so far this season. Krstic needs to be careful if Pierce or Jeff Green are getting beat.