at

New York Knicks (4-20) at Boston Celtics (7-13)
Friday, December 12, 2014
7:30 PM ET
Regular Season Game #21, Home Game #13
TV: CSN-NE, MSG, NBA-LP 755(DTV), 753(xfinity)
Radio: 98.5 Sports Hub, ESPN NY 98.7
TD Garden
Referees: Ed Malloy, Derrick Collins, Dedric Taylor

To say that the Knicks have been struggling is putting it mildly. They have struggled to implement Phil Jackson's beloved triangle offense under first year head coach Derek Fisher. They have struggled to find chemistry leading to bickering and misunderstandings between teammates and rumblings of Melo wanting to be traded from his brand new max contract. The Knicks are 5 games below the Celtics in the Atlantic Division which is is pretty sad since they have a pricy payroll and, unlike the Celtics, aren't rebuilding.
The Celtics are currently in 3rd place in the Atlantic Division while the Knicks, who have been struggling even more than the Celtics, are sitting in the 4th spot. A loss in this game paired with a win by the 76ers over the also struggling Nets, would drop the Knicks to the Titanic Division basement, a place the Knicks would desperately like to avoid.

The Knicks have particularly struggled on the road with a 1-11 record away from Madison Square Garden. The Celtics are 5-7 at home. These two teams split the series last season. In their final game last season, the Knicks put up 68 points in the first half, hitting everything they tossed up from beyond the arc. This is the first of 4 meetings between these two teams this season.

Carmelo Anthony has been struggling with a sore knee and has been a game time decision in his past several games, missing their loss to the short handed Spurs on Wednesday. Melo is insisting that surgery would be a last resort and in the meantime is day to day. Head coach Derek Fisher is hoping Melo will be able to go in this one but has listed him as questionable to doubtful.

The Knicks are on a 10 game losing streak and with those losses have come a lot of tension and bickering on the team both on and off the court to the point that Melo threatened to beat up Tim Hardaway Jr during a recent game. This, of course, leads to more bickering and more losses. The Celtics have lost their last 2 games, both on the road, but have not let the losing get to them or destroy their chemistry.



Probable Starters
Point Guard:

Rajon Rondo

---------------- Shooting Guard:

Avery Bradley
Center:

Tyler Zeller
Small Forward:

Jeff Green

------------------ Power Forward:

Jared Sullinger


Celtics Reserves


Phil Pressey


Evan Turner


Marcus Thornton




Brandon Bass




Dwight Powell


Kelly Olynyk


Gerald Wallace




Marcus Smart



Injuries


Vitor Faverani

(knee) out


James Young

(shoulder) questionable




Probable Starters
PG:

Iman Shumpert

.......................................... SG:

Jose Calderon




C: Amare Stoudemire


SF: Tim Hardaway, Jr .......................................... PF:

Quincy Acy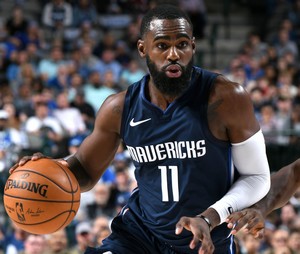 Knicks Reserves


Shane Larkin




Travis Wear




Pablo Prigioni




Samuel Dalembert




Jason Smith




Cole Aldrich



Injuries
Carmelo Anthony (knee) questionable to doubtful
JR Smith (heel) questionable


Cleanthony Early

(knee) out


Andrea Bargnani

(calf) out





Key Matchups
vs

Jeff Green vs Tim Hardaway, Jr
With Derek Fisher describing

Carmelo Anthony's

status as questionable to doubtful, Tim Hardaway will most likely start in his place, as he did on Wednesday, scoring scored 23 points on 9-for-18 shooting. It's always possible that Melo decides to play at the last minute, but even if he does, his minutes will more than likely be limited. On the other hand, Jeff Green should be aggressive and win the matchup.


vs

Tyler Zeller vs

Amare Stoudemire


Stoudemire leads the Knicks in rebounding with 7.5 per game to go with 13.3 points and 0.9 blocks. He's a step slower than he once was but is still a player that you need to stay with and keep from getting to the rim.

Keys to the Game
Defense - Playing tough team defense is the key to winning every game. The Celtics need to concentrate on getting stops and keeping the Knicks' offense off balance.

Set the Pace - The Celtics need to run on every possession from start to finish. It seems that when they run they build leads and outplay the other team. When they slow it down, they fall behind and lose leads. They have to run and set the pace of the game.

Be Aggressive - The Celtics needs to be the more aggressive team. They have to be more aggressive in going after loose balls, in grabbing rebounds, in defending, and in going to the basket. They lacked aggression against the Hornets and lost the game because of it.

Rebound - Much of rebounding is effort and desire and when the Celtics put out the extra effort to win the battle of the boards, they seem to play better overall. They have to grab rebounds to keep the Knicks from getting out on the break and to keep them from getting second chance points.

X-Factors
Home Game and Knicks
The Celtics are back home again and should get a boost from the home crowd. It also helps that the Knicks have been struggling on the road. The Knicks have been struggling and have been having chemistry issues along with some injury problems. All that together could be good news for the Celtics.

Official Report


Ed Malloy
Malloy has officiated 764 regular season NBA games, 43 playoff games and four NBA Finals games, over the past 12 seasons. Prior to joining the NBA, Malloy officiated for one season in the NBA D-League, three seasons in the CBA and three seasons in the WNBA. He worked the 2002 NBA D-League Finals and the 2001 CBA Finals. Malloy is very quick to call technicals and in the past has ejected

Doc Rivers

,

Paul Pierce

and Kevin Garnett for 2 quick techicals, all 3 of which had one or both rescinded by the league afterwards. He has called games in the past that were lopsided against the Celtics as well as some that were lopsided in favor of the Celtics so he is inconsistent in the way games are called. The Celtics are 0-1 this season and 2-8 in their last 10 games with Malloy while the Knicks are 4-6 in their last 10. His home W/L record is 9-8.

Derrick Collins
Derrick Collins has officiated 806 regular season games and 14 Playoff games in 13 NBA seasons. Prior to joining the NBA, he officiated five seasons in the CBA where he worked two Finals, and three seasons in the WNBA, working three WNBA Playoffs and Finals. He has seven years of collegiate officiating experience in various conferences (Big 12, Sun Belt, Conference USA, Southland, SEC, TAAC, OVC and SWAC), and he officiated a Southland Conference semifinal game. Collins also officiated at the high school level in Louisiana. There is very little controversy around Collins. The Celtics are 0-1 this season and 5-5 in their last 10 games with Collins while the Knicks are 0-3 this season and also 5-5 in their last 10. His home W/L record this season is 7-10.

Dedric Taylor
Dedric Taylor is one of three new officials for the 2014-15 season. Taylor joins the staff after four seasons as a referee in the NBA D-League, already having offciated 12 regular season NBA games as a non-staff official. Additionally, Taylor officiated in numerous college conference, including the SEC, Sunbelt, Southern, MEAC, ASUN and Conference USA. The Celtics are 1-1 with Taylor over his career, with both games coming against Philadelphia in the preseason. The Knicks are 0-2 with Taylor over his career. His home W/L record this season is 7-6