vs

Boston Celtics (3-1) vs Indiana Pacers (3-1)
10:00 AM ET
Summer League Game #5
TV:   NBA-TV,
Online:   Summer League Live on NBA.com
Amway Center, Orlando, Florida




Game Thread


The Celtics lost just one game so far in Summer League play.  The Pacers won in a blowout in the Celtics second game.  The Celtics finished 4th in the standings while the Pacers finished 3rd.  Both teams had 3-1 records  and both amassed 21 points but the Pacers won the tie breaker.  This matchup will give the Celtics a chance to avenge their only loss in Summer League play. 

While Summer League is mostly for evaluating players, I'm sure the Celtics will be trying hard for the win in this game in order to beat the team that embarrassed them 96-77 in their first meeting.  The Celtics had gotten out to an 18 point lead in the first game between these two teams but then they seemed to collapse and couldn't score and their defense also let up.



Kelly Olynyk

sat out yesterday's game and should be ready to go in this one.  Dairis Bertrans sat out with a sore neck after hitting the basket support in the previous game and is questionable for this game.    Regardless of who is on the court,  they need to play hard the entire game.  It would ge nice to avenge their only loss and close out Summer League with a win. 




Roster
O.D. Anosike


Chris Babb


Dairis Bertans
Daniel Coursey


Colton Iverson


Edwin Jackson


Chris Johnson


Mike Moser
Devin Oliver
Kelly Olynyk


Phil Pressey




Marcus Smart




James Young



Player to Watch


Mike Moser
Moser has played very well so far for the Celtics in Summer League, averaging 13.3 points, 3.7 rebounds, and 2.3 assists in the 4 games.  It will be interesting to see how he closes out and if the Celtics will offer him a training camp invite going forward. 




Roster
LaVoy Allen
Eric Atkins


Dee Bost


Jackie Carmichael
Frank Gaines


Solomon Hill


De Quan Jones


Kevin Jones


CJ Leslie
Roger Mason, Jr


James Nunnally


Jake Odum
Orinze Onuaku


Willie Reed


Sadiel Rojas


Donald Sloan


Tyler Stone

Player to Watch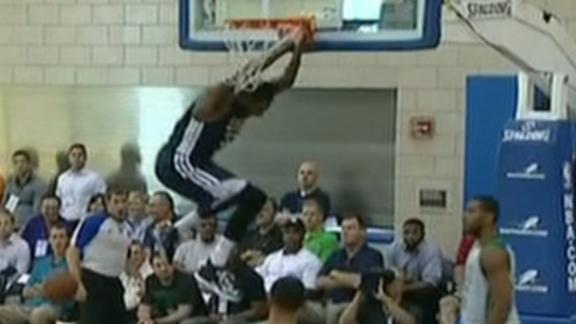 Willie Reed took over the game the last time these two teams met posting 18 points, 6 rebounds, and 4 blocks to help the Pacers dominate the Celtics.   It will be interesting to see if he can duplicate that feat in this game. 

Key Matchup

vs

Marcus Smart vs Donald Sloan
While Smart is a rookie, Sloan appeared in 48 games for the Pacers last season.   The 6'3" Sloan is averaging 18 points, 3 rebounds and 4 assists in Summer League play.  Smart started off slowly but has improved each game that he has played and would love to close out Summer League on a high note.