at

Boston Celtics (1-1) at Detroit Pistons (3-0)
Wednesday, July 7, 2014
7:00 PM ET
TV:  NBA-TV, CSNNE
Online:  Summer League Live
Amway Center Practice Court
Orlando, Florida


Summer League is a strange creature where getting to look at players and evaluate them trumps wins and losses.  While teams like to get wins, the goal is to evaluate players, especially the undrafted free agents trying to make an impression.

The Celtics have started the same 5 players in both of their games so far: Pressey, Smart, Johnson, Olynyk and Iverson.  The Pistons started the same lineup in their first two games Siva, Caldwell-Pope, Liggins, Cook and Mitchell.  In the third game, They replaced Cook with Harper. 



The Pistons have won all 3 of their contests so far,  while the Celtics have split their first two.  They will be trying to bounce back from their blow out loss to the Pacers on Monday.  The Celtics got off to a good start but then seemed to get lost on both ends of the court.  It felt like we were back in the regular season again. 

The Celtics will need to put out consistent effort for 48 minutes and players need to be aggressive.  With two games under his belt, it would be nice to see Marcus Smart break out and have a big game.





Roster
O.D. Anosike
Chris Babb
Dairis Bertans
Daniel Coursey
Colton Iverson
Edwin Jackson
Chris Johnson
Mike Moser
Devin Oliver
Kelly Olynyk
Phil Pressey
Marcus Smart
James Young

Player to Watch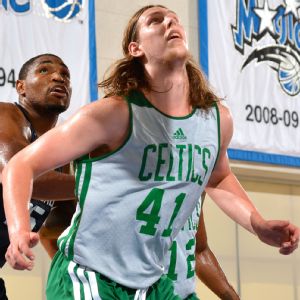 Kelly Olynyk
After posting team-highs with 20 points and 8 rebounds during Saturday's satisfying summer-opening win over the Miami Heat, Olynyk again topped Boston's box score with 15 points and 6 boards, but the Celtics endured a 96-77 loss to the Indiana Pacers.

Olynyk couldn't help but wonder if his decision to switch from a ponytail to his more familiar headband had messed with what was working.

"You know what, I probably should have stuck with the ponytail," Olynyk said. "It was working. That was a bad decision. That was probably the worst decision of the day."


Roster
Kentavious Caldwell-Pope
Brian Cook
Justin Harper
Jordan Heath
Damion James
DeAndre Liggins
David Lighty
Ian Miller
Tony Mitchell
Tim Ohlbrecht
Payton Siva
Tristan Spurlock
Markel Starks
Chris Watford

Player to Watch


Kentavious Caldwell-Pope
After scoring 30 and 26 in his first two games, Caldwell-Pope delivered his most sensational effort to this point on Tuesday when he registered 26 points and buried a game-winning 3-pointer with 6.6 seconds left to lift the Pistons to an 80-78 victory over the Heat. On Detroit's prior possession, he sunk three free throws with 14.9 ticks left after getting fouled on a 3-point attempt.

"I just think he's more confident," said teammate

Peyton Siva

. "He's not being hesitant and that's helping him out a lot."

Key Matchup

vs

Marcus Smart vs Kentavious Caldwell-Pope
If the Celtics stick with the same pattern, Smart will start at shooting guard vs Kentavious Caldwell Pope, who has been having a very successful Summer League so far.  At 6'6" tall, Caldwell-Pope has a couple of inches on Smart and also a year of experience on him. 
Celtics fans are waiting for Smart to have a dominant game and this would be a good time for him to dominate, especially on the defensive end.