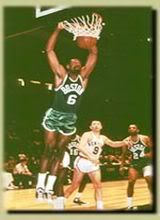 at

Boston Celtics (20-32) at Los Angeles Lakers (13-41)
Regular Season Game #52 Road Game #25
Sunday, February 22, 2015
9:30 PM ET
TV: CSNNE, TWC SN, NBA-TV Canada, NBA-TV
Radio: 98.5 Sports Hub, 710 AM ESPN
Staples Center
Referees: Tony Brothers, Mark Lindsay, Derek Richardson

Even though both of these storied franchises have been struggling, this is still one of the games that gets circled by both Celtics and Lakers fans a like. Some of the luster is off of the rivalry that have seen these two franchises combine for 33 titles but who now combine for 33 wins. But it's still a game that both teams very much want to win.

This is the second and final meeting between these two teams this season. The Celtics won the first game in Boston 113-96. The lineups for both teams have changed considerably since that game. The Celtics started Rondo, Bradley, Green, Sullinger and Zeller while the Lakers started a lineup of Lin, Kobe, Johnson, Boozer and Sacre. Such is the life of rebuilding franchises.

The Celtics are coming off a loss to the rejuvenated Kings on the road while the Lakers have lost their last 7 games and are coming off a loss to the Nets at home. The Celtics are 5-5 in their last 10 games and are 8-17 on the road while the Lakers are 1-9 in their last 10 and are 7-19 at home. The Celtics have a chance to sweep the series for the first time since their championship season.

The Celtics could get a boost from their 3 new players finally making their debut. All three were present for today's walk through and are expected to play tonight. With both Kelly Olynyk and Jared Sullinger out for this game, the reinforcements will be much needed.
After losing their 7th straight game, and 16 of their last 17, Byron Scott vowed to change up his starting lineup.

Carlos Boozer

is expected to start for the first time since the Lakers played the Celtics in December. Also,

Jordan Hill

is expected to start at center.
The Celtics are still in the playoff hunt but have slipped back to 1.5 games back of the 8th playoff spot in the East. The Lakers are strictly playing for lottery balls and have the 4th worst record at this point and are 16.5 games out of the 8th spot in the West. They need to get a pick in the top 5 or else they lose their pick this season
Probable Starters
Point Guard: Marcus Smart ---------------- Shooting Guard:

Avery Bradley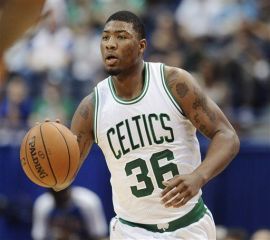 Center:

Tyler Zeller


Small Forward:

Evan Turner

------------------ Power Forward:

Brandon Bass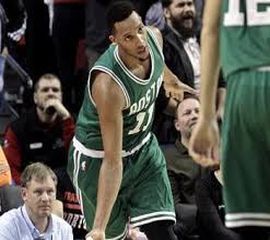 Celtics Reserves


Gerald Wallace




Jae Crowder


James Young
Phil Pressey


Shavlik Randolph




Isaiah Thomas




Jonas Jerebko


Gigi Datome

Injuries
Kelly Olynyk (ankle) questionable
Jared Sullinger (foot) out

Head Coach


Brad Stevens





Probable Starters
Point Guard:

Jordan Clarkson

-------------------- Shooting Guard:

Wayne Ellington

Center: Jordan Hill
Small Forward:

Ryan Kelly

-------------------- Power Forward: Carlos Boozer


Lakers Reserves


Ed Davis




Wesley Johnson




Jeremy Lin




Nick Young


Tarik Black


Robert Sacre



Lakers Injuries


Kobe Bryant

(Rotator Cuff) out


Steve Nash

(Sciatic) out


Julius Randle

(tibia) out

Head Coach


Byron Scott


(

Phil Pressey's

dad

Paul Pressey

is an assistant coach)





Players to Watch

Marcus Smart and James Young
Smart and Young should be getting more playing time and both will need to show improvement with each and every game. They are part of the Celtics' core and its time for them to make their presence felt in the game.

Honorable Mention
Isaiah Thomas is expected to debut off the bench for the Celtics. He has already faced the Lakers 4 times this season as a member of the Phoenix Suns and averaged 20 points on 65% shooting along with 5 assists and 2.8 steals against them.



Nick Young and Ed Davis
Nick Young is arguably the Lakers best player with Kobe out and will come off the bench against the second unit. The Celtics have to contain him. Ed Davis is capable of having a big game, especially against the Celtics weakened front line. He is especially tough on the boards. Davis had 16 points and 14 rebounds in the Lakers loss to the Nets.

Keys to the Game
Push the Ball - The Celtics have had success when they push the ball up the court quickly before the defense can get set. When they slow it down, they usually dig themselves into a hole. They need to set the pace and run on every possession.

Rebound - The Celtics have to crash the boards as a team to give themselves more possessions as well as to prevent the Lakers from getting second chance points. With Sully out, every player must work harder to pick up the slack on the boards.

Be Aggressive - The Celtics must be the more aggressive team. They have to be aggressive in going to the basket, in diving for loose balls, and on defense. They have to be the team that wants it more.

Focus for 48 Minutes - The Celtics still struggle with lapses. Even in their wins, they usually either get off to a slow start or give up most of a lead when they have one. They have to keep their focus for all 48 minutes and figure out how to avoid those lapses.

Defense - Offense often feeds off of the defense and defense wins games. The Celtics must play tough, physical team defense if they want to win this game.

Focus on Offense - Against the Kings, the Celtics shot just 57% from the line and 40% from the field. Often a lack of focus is to blame for poor shooting, especially at the free throw line. The Celtics must keep their focus and take good shots and especially hit their free throws.

X-Factors
Rivalry and Who Plays
Even though the Lakers are clearly tanking, the Celtics/Lakers rivalry is such that both teams will want to win this game. The Celtics have to play harder and give more effort since they are the road team. Getting their new players in the lineup could give them a boost.

Official Report


Tony Brothers
Tony Brothers is entering his 21st season as an NBA official and has officiated 1,206 regular season games, 72 Playoff games and four NBA Finals games during his career. He was a member of the crew that officiated the 1996 Mexico Challenge, 1998 Schick Rookie Game, 1999 McDonald's Championship in Milan, Italy and the 2008 China Games. Prior to joining the NBA, Brothers spent four years officiating in the CBA, including three CBA Finals and a CBA All-Star Game. He has one year of collegiate officiating experience at the Junior College level. Brothers also has seven years of high school officiating experience in Virginia, including three state tournaments.

The Celtics are 1-3 this season and 4-6 in their last 10 games with Brothers while the Lakers are 0-3 this season and 2-8 in their last 10. Two seasons ago, in a game vs the Knicks, twice Brothers made the correct call from across the court after Dick Bavetta, who was standing right on top of it, missed the call. All in all, Brothers is one of the better refs in the league. His home win/loss record this season is 21-22.

Mark Lindsay
Mark Lindsay has officiated 413 regular season games and one playoff game in his seven NBA seasons. Prior to working in the NBA, he worked for five seasons in the NBA Development League, officiating 116 games, including playoff games in 2005, 2006 and 2007. Lindsay received a Bachelors degree in Elementary Education and graduated with honors from West Chester University where he was a three year letterman on the Men's Varsity Basketball team. He later worked as a teacher and a real estate sales agent and officiated in several college conferences, including the ACC, Colonial Athletic Association, Atlantic Sun, Big South and Ohio Valley Conferences before joining the NBA.

The Celtics are 1-2 this season and 4-6 in their last 10 games with Lindsay making the calls. One win last season was a 101-95 win over Chicago where the Bulls shot 31 free throws to 16 for the Celtics and there were more than a few questionable calls. But then, he called a game vs the Mavs where the Celtics shot 30 free throws to 17 for the Mavs and the Celtics got the benefit of a lot of calls. In several of the games the officiating was good but in a loss last season to the Cavs the officiating was terrible, with bad calls going both ways. Tommy had this to say, "I don't remember when there was such a plethora of terrible calls throughout." Lindsay also called the game vs the Bulls with Jason Phillips where the Celtics took 11 free throws to 40 for the Bulls and where Tommy described it as an abomination and not even close to a decently officiated game. He can be good and he can be very, very bad depending on the night. The Lakers are 1-3 this season and 4-6 in in their last 10 with Lindsay. He's not intimidated by the home crowd with a home W/L record this season of 21-23.

Derek Richardson
Derek Richardson has officiated 995 regular season games and one playoff game, as well as the 2003 NBA Rookie Game in Atlanta, during his 17 seasons as an NBA official. Prior to joining the NBA, Richardson spent eight years officiating in the CBA, including the 1996 CBA All-Star game and two games of the 1996 CBA Finals. Richardson is known for being inconsistent with his calls, especially on charge/block calls. The Celtics are 0-4 this season and 5-5 over their last 10 games with Richardson. The Lakers are 1-3 this season and 3-7 over their last 10 games with Richardson as a ref. His home W/L record this season is 20-16.