at

Boston Celtics (30-37) at San Antonio Spurs (42-25)
Friday, March 20,2015
8:30 PM ET
Regular Season Game #68 Road Game #34
TV: CSN-NE, FSSW, League Pass 763(DTV), 758(xfinity)
Radio: 98.5 The Sports Hub, WOAI 1200 AM
AT&T Center
Referees: Ron Garretson, Mark Ayotte, Justin Van Duyne

The Celtics continue their playoff push with a visit to the NBA Champion San Antonio Spurs. The Celtics are coming off a hard fought loss in OKC after 5 straight wins. The Spurs lost to the lowly New York Knicks on Tuesday, but bounced back with a win over the Milwaukee Bucks on Wednesday.

Both of these teams are playing for playoff positioning. The Celtics are in the 8th spot just 1 game behind Miami and tied with the Pacers who are in 9th courtesy of a tie breaker. Charlotte is just 1/2 a game behind. The Spurs are currently the 7th seed and are just 1 game back of the Clippers and Mavs, who are tied for 5th. Indiana, Miami, and Charlotte are all in action as well.

The Spurs have won the last 6 meetings with the Celtics. They are 1-0 this season, after beating the Celtics 111-89 in Boston in November. The Celtics have changed considerably since that blowout loss. They started Rondo, Green, who have been traded, and Sully, who is on the injured list. Tyler Zeller got his first start in that game and Marcus Smart was a DNP. The bench has also gone through quite a bit of change since that last game. The Spurs are the same team with the exception of Austin Daye, who is no longer with the team.

Isaiah Thomas will miss his 6th game since injuring his back against Miami. Jared Sullinger is still out with a foot injury. The Spurs will be missing Manu Ginobili for the second straight game with an ankle injury. Aron Baynes is questionable with a rib injury. The Celtics are 12-21 on the road and 7-3 in their last 10 games. The Spurs are 25-8 at home and 8-2 in their last 10 games.




Probable Starters
PG
SG
SF
PF
C

PG: Marcus Smart
SG: Avery Bradley
SF: Evan Turner
PF: Brandon Bass
C: Tyler Zeller

Celtics Reserves
Gerald Wallace
Jae Crowder
James Young
Phil Pressey
Shavlik Randolph
Isaiah Thomas
Jonas Jerebko
Gigi Datome
Kelly Olynyk

Injuries
Jared Sullinger (foot) out
Isaiah Thomas (back,elbow) out

Head Coach
Brad Stevens




Probable Starters
PG
SG
SF
PF
C

PG: Tony Parker
SG: Danny Green
SF: Kawhi Leonard
PF: Tim Duncan
C: Tiago Splitter

Spurs Reserves
Kyle Anderson
Jeff Ayres
Marco Belinelli
Matt Bonner
Boris Diaw
Cory Joseph
Reggie Williams

Injuries
Aaron Baynes (rib) questionable
Manu Ginobili (ankle) out

Head Coach
Gregg Popovich




Key Matchups

vs

Brandon Bass vs Tim Duncan
Duncan may be getting older, but he still is tough to match up with. He is averaging 14.2 points, 9.4 rebounds and 1.89 blocks a game. Brandon Bass has been playing very well and hopefully will be able to keep Duncan from having a big game.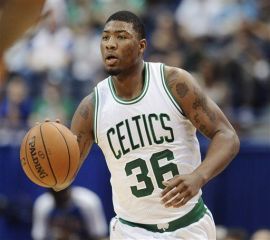 vs

Marcus Smart vs Tony Parker
Smart is coming off one of his best games as a Celtic and will have a challenge in trying to slow down Tony Parker. He is averaging 15 points, 2 rebounds and 4.9 assists on the year, but has averaged 22 points over his last 8 games on 58.6% shooting.

Honorable Mention
Evan Turner vs Kawhi Leonard
Leonard is averaging 15.7 points, 7.3 rebounds, 2.4 assists and 2.0 steals. He is always a threat to have a big game on both ends of the court. It will be important to slow him down and keep him from getting open shots.

Keys to the Game
Play 48 Minutes - The Celtics tend to have periods in the game where they can't make shots, let up on defense and turn the ball over. Even against the Thunder, they had one of those lapses at the end of the 3rd quarter and even though they finished strong, they weren't able to over come that lapse. They have to play strong for all 48 minutes.

Rebound - Much of rebounding is effort and desire. The Celtics need to do both if they hope to beat a tough Spurs team and they will need to crash the boards to prevent second chance and fast break points from the Spurs. They need to put out that little bit of extra effort to win the battle of the boards.

Be Aggressive - The Celtics must be aggressive in going after loose balls, taking the ball to the hoop and playing in your face defense. When they get lazy and allow teams to beat them to loose balls and rebounds and when they settle for jumpers and don't go to the basket, they are very beatable. They have to be the more aggressive team from the opening tip to the final buzzer.

Run, Run, Run - The Celtics have to run in order to get easy opportunities before the defenses set up, especially against a good defensive team like the Spurs. The Celtics need to run on every possession and hope to wear the Spurs down.

Defense - Defense is the key to winning every game. The Celtics have got to clamp down on defense as a team. Every player must commit to playing tough defense. The Celtics have been playing good defense recently but they need to clamp down even more to beat the Spurs. The Spurs are 10th in the league, holding opponents to just 98 points per game. The Celtics have got to match the Spurs defensive intensity if they want a chance at winning this game.

Focus - The Celtics missed 11 free throws against the Thunder and they turned the ball over 20 times, after averaging just 13.6 in previous games. The Celtics need to be more focused and take their time on their free throws as well as to focus on their passing and take better care of the basketball.

X-Factors
Focus and Officials
Young teams sometimes struggle with focus on the road. Can the Celtics stay focused in this game and ignore all the distractions. Officiating can make a big difference, especially when they give the home team every advantage. Hopefully the refs will call this one fairly, especially since 2 of the refs very often call games in favor of the home teams..

Official Report


Ron Garretson
Ron Garretson, the son of former NBA official Darell Garretson (1967-94), has officiated 1,749 regular season, 209 playoff games, and 11 NBA Finals games over his 27 seasons in the NBA. In addition, Garretson has two years of CBA officiating experience and two years of high school officiating experience in Arizona. The Celtics are 4-6 over their last 10 games with Garretson. The Thunder are 6-4 over their last 10 games with Garretson.

There isn't a lot of controversy surrounding Garretson recently. He hasn't been partiularly bad in the games he's called for the Celtics over the past few years. In the '95-'96 season, Nick Van Exel was ejected from a game for calling Garretson a "little midget" He also was fined $25,000 and suspended 7 games for the incident. In a 2000 playoff game between the Lakers and the Blazers, Rasheed Wallace was ejected for not having the right attitude. Although Sheed stressed that he has not said or done anything wrong, the ejection was upheld. My guess is that Sheed's reputation had a lot to do with that ejection. The Celtics are 0-1 this season and 2-8 over their last 10 games with Garretson as a referee. The Spurs are 1-2 and 7-3 over their last 10. Garretson is a big time homer ref with a home W/L record this season of 37-13.

Mark Ayotte
Mark Ayotte completed his 10th NBA season having officiated 592 regular season games and his first playoff game Prior to joining the NBA, Ayotte was a WNBA official for four years and a CBA official for three years. He spent one year officiating in the NBA D-League.

Ayotte has 12 years of collegiate officiating experience, having worked in the Pac-10, Big Sky and West Coast conferences. He officiated in the Pac-10 Conference Tournament and the Big Sky Conference Tournament, including the finals. Ayotte also was an official for the preseason and postseason NIT. He has 10 years of high school officiating experience in the state of Arizona.

The Celtics are 1-2 this season and 2-9 over their last 10 games with Ayotte. Ayotte has been good for the most part, but has had a few games where the calls were questionable and the officiating uneven. The Spurs are 1-0 this season and 6-4 over their last 10 with Ayotte. Ayotte was one of the refs in the Mavs/OKC game two seasons ago in which Marc Cuban was fined $75,000 for criticizing the referees as among the worst he has seen. Another homer ref, Ayotte has a home W/L record this season of 35-19.

Justin Van Duyne
Justin VanDuyne is one of three new officials for the 2014-15 season. VanDuyne joins the staff after four seasons as a referee in the NBA D-League, already having officiated 16 regular season NBA games as a non-staff official. Prior to joining the NBA, Van Duyne officiated in numerous college conferences including the PAC-12, Mountain West, Big West, WCC, and WAC. Already in his young career, Van Duyne was part of a poorly called game where the Timberwolves shot 32 free throws to just 9 for the Celtics and there were a number of questionable calls the entire game. Even Wolves fans were commenting on how many breaks they were getting. The Spurs are 2-2 with Van Duyne while the Celtics are 0-5 for his career. His home W/L record this season is 22-22.