vs 

Boston Celtics (0-2) vs Dallas Mavericks (1-1)
Tuesday, July 11, 2016
6:00 PM ET
TV:  ESPN 2 (Replay: Wednesday 7/13 at 7:00 AM ET on NBA-TV)
Stream:  ESPN 3
Cox Pavilion

The Celtics look for their first win in three tries in Las Vegas as they take on the Dallas Mavericks, who are 1-1.  The Mavericks played in the Orlando Summer League where they finished 2-3.  They beat the Heat 83-64 and then lost to the Raptors 80-69.  The Celtics had Monday off while the Mavericks are playing in back to back games. 

The Mavs are led by second year player Justin Anderson and their rookie, AJ Hammons, who was the 46th pick in the draft.  They also feature Jonathan Gibson, who played for the Celtics Summer League team in 2012 and for Portland's summer League team in 2014.  He has been playing in  Asia.   Another name that should be familiar is Vander Blue, who played in 3 games for the Celtics in 2013-14.  He played in 2 games for the Lakers in 2014-15.   

Once again, the Celtics will be at a height disadvantage with the Mavericks including 2 players 7 ft tall or more.  AJ Hammons, their rookie is a 7' center while Satnam Singh,  the first Indian born player in the NBA, is 7'2" tall.  He was the 52nd pick by the Mavericks in 2015 and played for the Mavericks' D-League team, the Texas Legends last season. 



Celtics Summer League Roster
Player..... Number
Ben Bentil 50
Jaylen Brown 9
RJ Hunter 28
Demetrius Jackson 26
Jordan Mickey 55
Malcolm Miller 48
Abdel Nader 51
Jayvaughn Pinkston 52
Terry Rozier 12
Marcus Thornton 27
Corey Walden 46
Guerschon Yabusele 30
Mouphtaou Yarou 63
James Young 13
Coach: Jamie Young

Possible Starting 5
Terry Rozier
James Young
Jaylen Brown
Guerschon Yabusele
Jordan Mickey



Mavericks Summer League Roster
Player   Number
Justin Anderson 1
Chane Behanan  24
Vander Blue  13
Kyle Collinsworth 30
Perry Ellis  33
Dorian Finney Smith 10
Jonathan Gibson  14
AJ Hammons   20
Isaiah Miles  17
McKenzie Moore  16
Giovan Oniangue 19
Tanner Plomb  35
Satnam Singh  52
Jameel Warney  32
Coach:  Jamahl Mosley

Possible Starters
Jonathan Gibson
McKenzie Moore
Justin Anderson
Dorian Finney Smith
AJ Hammons 

Players to Watch


After taking Sunday off for a rest and having an off day on Monday, Rozier should be well rested and ready to play.   He has looked good so far in Summer League and is trying to make a case for a bigger role next season.


Jordan Mickey struggled in his first game in Vegas but looked much better in the second game with 18 points, 6 rebounds and 1 blocked shot.  He is averaging 11.5 points, 6.5 rebounds and 1 block in the two games. 


Jaylen Brown has been struggling with the knee injury that sidelined him for the final 2 games of the Utah Summer League.  He has been playing, but hasn't been 100%.  He is averaging 7 points, 2.5 rebounds, 1.5 assists and 1.5 steals.  Celtics fans are hoping to see a bit more from him. 



Jonathan Gibson has been playing well for the Mavericks in Vegas.  He is averaging 20 points, 2.5 rebounds, 2 assists, and 2 steals.  I'm sure he will want to show the Celtics that they should have kept him back in 2012 and so the Celtics will need to slow him down. 


Justin Anderson has a year of NBA play behind him.  He is averaging 14.5 points, 6 rebounds, 2.5 assists, and 1 steal per game in Vegas.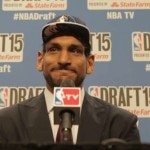 The Celtics should watch Satnam Singh for no other reason than he is 7'2" tall and is 6 inches taller than any Celtic.   

Keys to the Game
Rebound - In both losses in Vegas, the Celtics have been out-rebounded by a lot.  Even with a height disadvantage,  they have to find a way to beat the Mavericks on the boards.  Much of rebounding is effort and the Celtics must put out the effort to grab rebounds. 
Defense - Defense will always be the key to winning, especially for this team that has struggled to score.  They have to get stops and keep the other team from scoring, which so far, they haven't been able to do.
Find a Way to Score -  This might sound simple but the Celtics have struggled to hit their shots and they have to somehow find a way to score.  If the 3's aren't falling, go inside.  If they are getting blocked at the rim, then shoot from mid range.  They have to find some way to get their shots to fall. 
Team Play - We have watched way too much dribbling and hero ball so far here in Vegas.  They have to move the ball and find the open man.  

X-Factors
Injuries - Jordan Mickey, RJ Hunter and Jaylen Brown have all been hampered by injuries that have lingered and slowed them down in games in Vegas.  Hopefully they are healing and will be at full strength for this game. 
Height differences - In both games so far in Vegas, the Celtics' opponents have had several skilled big men who dominated the Celtics inside and on the boards.   The Mavericks also have two players 7' or taller and if they both put in strong performances again,  the Celtics may once again find themselves unable to get rebounds and easy shots in the paint.